Message from H.O.D.
Dear Students,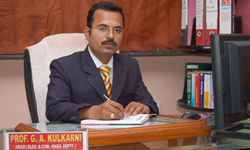 Our goal is to impart value based quality education along with development of positive attitude, skills and abilities to apply knowledge in order to meet the challenges of future. We impart quality education & training to students for shaping their careers. We are in continuous efforts to educate leaders who will turn great ideas into real changes that will make the world a better place and generate new knowledge and advance the progress of research. Our goal is to make efforts for the spread of technical education among classes and communities, which are socially and educationally underprivileged. Our goal is to create capable young researchers / teachers with great thirst for knowledge and scientific curiosity. We provide opportunities to the students to reach his/her highest personnel and professional capability. We develop the personality and character of students by value based education.
I welcome you to the Electronics & Telecommunication Engineering Department and look forward to your valuable association with us for better tomorrow.
Dr. Girish A. Kulkarni
Professor & Head, Electronics & Telecommunication Engg.
---