---
Dear Students,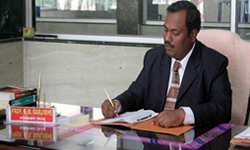 Welcome to Shri Sant Gadge Baba College of Engineering and Technology, Bhusawal, a centre of excellence where we nurture young talents in the different fields of engineering. Our major emphasis is to encourage curiosity and innovativeness among our students and lay a foundation from where they can acquire quick learning ability and adaptively with this fast changing world.
We invite applications from students interested to take admission in our U.G. (Bachelor of Engineering) and P.G. (Master of Engineering) programs which are currently offered by this institute through admission process carried by DTE Maharashtra and at Institute level. Our laboratories are equipped with state of the art equipment and software. They provide a very stimulating environment. Our beautiful campus is superbly networked with excellent speed of internet accessibility. Throughout your journey towards graduation and post graduation, please remember that you will not be alone, our professors, staff members, and the administration will always be there to make you successful in reaching your goals.
I look forward to see you at SSGB campus to shape your future during the most exciting period of your life. I believe that your education at SSGBCOET, Bhusawal will be a fulfilling experience.
Thank you,
Dr. Rahul B. Barjibhe,
Dean (Academics & Administration)
Associate Dean (Academics) - Dr. Babasaheb Ambedkar Technological University, Lonere, (State Technological University)